CAVAN COMEBACK BREAKS ARMAGH HEARTS
CAVAN 3-18 ARMAGH 6-8
Richard
Bullick
 at Templeport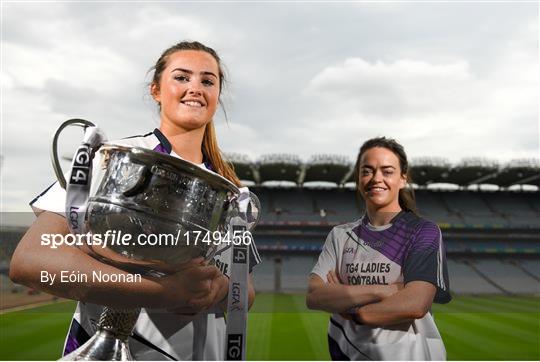 What had seemed set to be birthday delight for Orchard captain Caoimhe Morgan turned to anguish as Armagh let slip an 11-point lead in losing to Cavan at Templeport.
Armagh had hoped to give veteran skipper Morgan the perfect present of a vital victory on the day she turned 36 but instead their All Ireland hopes suffered a major setback at the hands of former manager James Daly's Breffni brigade.
Losing this from such a promising position was an absolute sickener for an Armagh team hoping to bounce back from another disappointing defeat by Donegal in the recent Ulster final when they failed to fire.
This was a much improved performance full of purpose, energy and fine football played at pace, which looked like securing the win needed to get Armagh's summer back on track.
Instead, this soul-destroying defeat leaves the Orchard outfit facing the tough prospect of having to beat National League champions Cork in their remaining group game in Tullamore on Saturday week to qualify for the semi-finals.
With Cork appearing back to their formidable best, that will be a daunting job for Lorraine McCaffrey and Fionnuala McAtamney's team, though at least the orangewomen will have top player Caroline O'Hanlon back for that game.
Saturday's tie was the first Senior Championship match the triple All Star had missed since 2008, a qualifier defeat against Tyrone which coincidentally came on Cavan soil.
However when an early second half scoring spree put Armagh into a double-digit lead at Bawnboy, they appeared perfectly poised to win without taliswoman O'Hanlon, away captaining Northern Ireland at the Netball World Cup.
Earlier in the day O'Hanlon had won Player of the Match in leading her girls in green to a 67-50 victory over Sri Lanka in her 100th Test and the orangewomen were on course to make it a double.
But, in the end, a second half hat-trick of goals by double All Star Aimee Mackin couldn't deliver victory for Armagh in what was a hugely entertaining game played in perfect conditions.
It was unfortunate that this wasn't among the six televised group games in the 2019 TG4 Senior Championship because, as a spectacle and exciting contest, the match was a great advert for ladies football.
A balmy afternoon featured plenty of free-flowing football between two teams minded to attack, with momentum swinging one way and then the other.
A missed penalty from Aimee Mackin prevented Armagh getting too far ahead early on but then, after finding themselves three down in the 26th minute, the visitors went into the interval three ahead.
Three Armagh goals in the first 10 minutes of the second period put them firmly in the driving seat but Daly's side hit back with 3-1 in their own six-minute purple patch.
A free from Kelly Mallon broke Cavan's scoring sequence, though they then quickly reeled off five unanswered points to go three ahead before Aimee Mackin completed her hat-trick with a brilliant goal.
This thrilling game was finally won in the fourth minute of injury-time when prolific Cavan forward Aisling Maguire, from host club Templeport, converted a straightforward free awarded against Morgan herself.
The Orchard faithful felt it was a soft enough free and salt was rubbed in the wounds when Aoife McCoy was somehow deemed guilty of charging at the other end two minutes later as Armagh pressed for an equalising score.
Earlier Laois referee Niall McCormack had played a positive part in letting an enjoyable game flow while still keeping control, though he was far too zealous throughout in blaming ball-carriers for charging.
With the Orchard rearguard under the pump, Niamh Marley found herself sinbinned for a tangle with an opponent which seemed more messy than malicious shortly after a final warning, so the visitors were down to 14 for what proved eight minutes of injury-time.
Presumably in an attempt to play mind games with Cavan, the team announced by Armagh had some players wearing random numbers and the actual line-up had a much more conventional look.
So Aimee Mackin, wearing O'Hanlon's No 9 jersey, wasn't in midfield or Tiarna Grimes at full forward while Niamh Marley replaced Colleen McKenna in the one personnel change to the team listed in the programme.
Although Maguire pointed after 18 seconds and Cavan soon doubled their advantage, Armagh were level by the fifth minute, McCoy following up with a point after Mallon's free came back off the upright and Aimee Mackin kicking a free.
Maguire gave the hosts the lead again but Blaithin Mackin responded with a great Armagh goal and she then won a free after Aveen Donaldson won the Cavan kickout.
Armagh had begun brightly, playing with real urgency and attacking confidently with conviction, which posed problems for Cavan.
The elder Mackin was unceremoniously flattened as she bore down on goal with a challenge which could have merited a sinbin but the culprit escaped significant sanction and Cavan weren't punished on the scoreboard either as Aimee's spot-kick struck the post low down.
Maguire kicked two frees and then a point off the post to nudge Cavan ahead again and Armagh had a lucky let-off when Donna English shot low past the far post after being left unmarked.
Former skipper English then hit a post but Armagh replied with a fine equalising score from an attack featuring McCoy and Blaithin Mackin before Donaldson recycled for Aimee Mackin to slot over.
Aishling Sheridan and Blaithin Mackin, the latter after a great run up the right before cutting in-field, traded points before the former struck Caroline O'Hare's right post high up.
Aisling Gilsenan gave Cavan the lead again and further efforts from Maguire and midfielder Neasa Byrd, from long range, widened the gap to three.
But Aimee Mackin converted a free from wide on the right when a Cavan defender infringed from her own team's kickout and Blaithin added a well-taken point after a good ball by her sister.
In injury-time Aimee sent over a long-range point and McCoy raised a green flag for Armagh after Blaithin Mackin caught the Cavan kickout, before Gilsenan ended the half with a free which made it 0-11 to 2-7 at the break.
O'Hare made three useful saves in the first four minutes of the second half and, from the last of them, Armagh launched a length of the field attack which yielded a superb goal.
Keeper O'Hare and captain Morgan brought the ball out, Niamh Marley went on a surging run, McCoy picked up possession and Mallon found Aimee Mackin, who released sibling Blaithin.
Blaithin Mackin, who was having an eye-catching game, went through the Cavan defence and produced a superb finish to the net, taking her tally to 2-2.
Aimee Mackin raised her first green flag two minutes later, dabbing the ball past the Cavan goalkeeper Elaine Walsh from a Mallon shot which dropped short.
She fisted home her second within three minutes, this time after a neat exchange with McCoy following another run by Niamh Marley and Armagh were suddenly a barely believable 11 ahead at 0-11 to 5-7.
Those Orchard riches proved short-lived however with the Cavan fightback beginning right away through a Gilsenan point and then a vicious left-footed bullet to the net by half-time sub Lauren McVeety.
Another shot rolled just past O'Hare's left post and thankfully Gilsenan hit a wide when an Armagh kickout went to a Cavan attacker.
Armagh's kickouts had gone much better after the disasters suffered against Donegal though it was surprising Cavan hadn't tried to apply more pressure on O'Hare's restarts in the opening period.
Maguire put away a 45th minute penalty awarded against Rebecca O'Reilly and Aishling Sheridan scored their third goal straight afterwards, rolling the ball home after O'Hare's initial save from another lost kickout.
O'Reilly was soon replaced by Forkhill's Megan Sheridan while earlier in the half Ballyhegan's Eve Lavery had taken over up front from Niamh Reel, who had come into a reshuffled side as O'Hanlon's replacement.
Mallon landed a free to double Armagh's advantage to two again but Byrd, Aishling Sheridan and English scores had Cavan on even terms by the 50th minute.
Full forward Sheridan got away a minute later and, although her shot went wide, a free in was awarded which Maguire inevitably converted.
The siege continued as Cavan this time won a longer kickout and Niamh Marley caught a ducking opponent.  Maguire hit the post with the free but the Breffni chasers got the ball back and she hit a great point on the turn.
O'Hare caught a Maguire free, awarded for a Niamh Coleman foul, and the a cramping Donaldson was replaced by McKenna after treatment from physio Dermot Bellew, who would have been relieved to find nothing worse wrong with his wife-to-be ahead of their wedding this Friday.
Aimee Mackin brought Armagh level by dancing through and delivering a wonderfully deft finish from a narrow angle at the near post with her left foot on 57 minutes to complete her hat-trick.
English was lectured by McCormack for offering unwanted advice but Niamh Marley was sinbinned for fouling, leaving Armagh at a numerical disadvantage 60 seconds out from what would be a prolonged period of injury-time.
Sarah Marley caught a Maguire free and sweeper Maebh Moriarty charged down their next shot, with a free out lifting the pressure.
Lavery, who was strangely left outside to warm up during half-time before being brought on early in the second period, kicked a poor wide in the first minute of injury-time but thankfully Ciara Finnegan drew a blank at the other end with a free given against Blaithin Mackin.
Then came that close-in free against Morgan, nailed by Maguire, soon followed by that controversial call against McCoy for charging and, although Clodagh McCambridge won one last ball brilliantly, it was given away again.
That was the Orchard's chance gone for the day and also for the season unless they can scalp Cork in Tullamore, scene of Armagh's impressive victory over Laois in the 2014 All Ireland quarter-final.
A draw would have kept Armagh's fate in their own hands for Cavan have to play Cork first this weekend before the Orchard outfit face them.
Had the spoils been shared the scenario would have been uncannily like last season when Armagh drew with Monaghan in Clones after a bad beating by Donegal in the Ulster final and then faced Cork knowing how much they could afford to lose by.
A weekend win would have got Armagh back on track after their Ulster final disappointment and given them another shot at Donegal with a place in a Croke Park semi-final, likely against Galway, up for grabs.
Now though, unless Cavan can shock Cork first, Armagh must overturn the Rebelettes or they will find themselves in a relegation play-offs pot, probably with Tyrone, Monaghan and Westmeath.
ARMAGH: C O'Hare; S Marley, M Moriarty, C Morgan (capt); R O'Reilly, N Marley, C McCambridge; N Coleman, A Donaldson; T Grimes, K Mallon (0-1, 1f), A McCoy (1-1); B Mackin (2-2), A Mackin (3-4), N Reel.  Subs used: E Lavery for Reel (33mins), M Sheridan for O'Reilly (47), C McKenna for Donaldson (56).
CAVAN: E Walsh; K McIntyre, R Doonan, S Reilly; S Greence (capt), S Lynch, M Sheridan; N Byrd (0-2), S O'Sullivan; D English (0-1), A Maguire (1-9, 4f; 1-0pen), A Gilsenan (0-3, 1f); C Finnegan (0-1), A Sheridan (1-2), L Fitzpatrick.  Subs used: L McVeety (1-0) for McIntyre (ht), N Keenaghan for Lynch (42), G Sheridan for Gilsenan (47).
Referee: Niall McCormack (Laois).