As you can imagine, all voluntary organisations can only survive with the good will of the people in our local communities willing to donate their time and money to our set up. Armagh Ladies Football currently field county teams at U14, U16, Minor and Senior. The costs of fielding county teams are high, major costs are pitch hire, transport, physio, food and general competition expenses which run alongside the success of fielding these teams.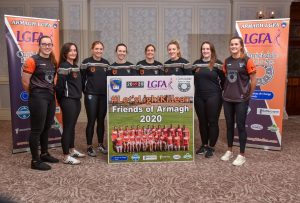 As well as our county duties, we also control and organise the fixtures for all clubs from U10 girls through to senior competition. In Armagh there are over 2,500 girls registered who play club football in the county, this number of girls playing football is increasing year on year and is something we want to sustain and grow. Again, it takes money to run a programme of club ladies football matches and competitions, e.g. referee fees, trophies and medals etc.
We have a couple of major sponsors willing to back our county teams but now we are asking for your help in any way you can come on board and support Armagh Ladies. It costs just over £150k to run ladies football in Armagh and we need to look at more ways to cover these costs so as girls can continue to participate in the fastest growing female sport in Europe.
Now is your opportunity to support your daughter, niece or sister or maybe just a good club player that you have seen work hard. Help us to help them achieve their greatest possible dream and represent Armagh at the highest level. With a major effort from our committee, we believe with the right support we can produce winning teams at underage and push for Division 1 status and the Brendan Martin cup at senior level.
To those who sign up to our cause, we can guarantee your business will be advertised on all our social media sites and with our new Armagh Ladies website up and running, you will also feature on it.
Our aim with this fundraiser is to hit a target of £25,000 asking each business to donate £250 to become a member of our friends of Armagh Ladies Fund. You can donate as little as £10 on our online campaign for our new field Mc Keever Park, Killean, all donations are greatly appreciated.
https://uk.gofundme.com/armagh-lgfa-development-fund
If you feel you can donate more to our cause or would like to come on board as major sponsor of our club championships and leagues, please feel free to contact me directly on 07900 494 616.
Yours in Sport
Sinead Reel
Armagh Ladies Chairperson
---